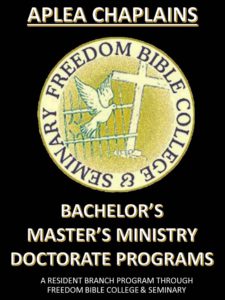 Freedom Bible Institute
245 State St.
Schenectady, NY 12305
518-818-8218
Email: fellowshipchristianwarriors@gmail.com
"Not by Might nor by Power but by
My Spirit says the Lord of the Angel Armies,"
Zach 4:6
Mark Messare has been working with Freedom Bible College & Seminary since 2004 and has been a part of many exciting adventures in ministry.  He traveled to Lagos Nigeria to meet FBCS affiliate and speak at several churches during his time there.  He also later brought Bishop Dr. Israel Ikpeka to graduation services the following year.
We at Freedom Bible Institute of Salem, Oregon truly believe in the motto "Educating the World to Save the World"  which was founded by Dr. Joel P. Church and his wife Dr. Vicki Church.
Mark completed his Bachelor's through FBCS and also his Master's course work while on deployment with the military in the Middle East.  He is currently in the process of writing his doctoral dissertation which will be released in 2018.  Mark also holds a Bachelors in Science from Nyack College in Organizational Management.  He was ordained by Dr. Church in 2007 and has officiated weddings as well as spoken as a guest speaker for Return of the King Healing Conference in April 2017.
2017 is the year we are finally open to accepting students to Freedom Bible Institute New York and are looking forward to what the Lord is planning to do!
In other areas of ministry, Mark has been involved in healing ministries for over 20 years and has studied under Clay & Mary McLean of www.mcleanministries.org.  He has also helped develop a chaplaincy program with  his brother Jonathan Messare that is available to first responders as well as other US citizens who are a part of the APLEA (American Private Law Enforcement Association) www.privatelawenforcement.com .  For the last 15 years, Mark has worked in the military as well as in the private sector in Security. He owns and operates APLEA Krav Maga which is an Israeli based self defense & tactical training program for all ages.