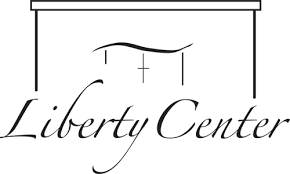 1121 Elizabeth Ave.
Roselle, NJ  07203
908-289-6322, ext: 3
Email: eddebschw1@aol.com
A Message from the President
There are multitudes of individuals who would like to further their Biblical training and education.  What is stopping them?  It may be a financial roadblock, or they may be like so many people who hold full-time jobs.  This leaves limited time in their schedules for attending the traditional, Christian college or seminary.  Many hunger for more of the Bible, and a deeper relationship with Jesus.  Lay pastors and ministers, who may have been positioned as leaders by the Lord, may not have had a firm academic foundation or may lack the needed credentials.  Where can they find fulfillment?
For the past six years Christ Fellowship has taken strategic steps, in providing The Way Of The Cross, which is as series of courses and phases individuals may take to help them grow toward leadership within the local church. As we strive to continue on the Way of the Cross,
| | |
| --- | --- |
| Dr. Debra Schwartz, President | we expand the vision by training and releasing men and women into the five-fold ministry to spread the gospel.  We recognize the need to take progressive steps toward providing additional leadership training for men and women who desire to serve the Lord, reach out to the lost, and consistently mature in their personal walk with Christ.  One of the keys in fulfilling that vision is the establishing the Liberty Center Bible Institute.  This will be a hands-on Bible training center that will allow the student to put faith into action by offering practical application opportunities while earning advanced diplomas.  We hope to partner our students with existing ministries, churches, and organizations in a unified effort to reach the lost, educate the body and multiply our efforts toward revival. |
We desire to bring the knowledge and the love of the Lord to the World.  Jesus tells us to know the truth and the truth will make us free. Yet often in seminary settings, there is an emphasis on academics, (truth) but there are few, culturally relevant field experiences offered to balance the education process.  The ever-unfolding vision of training leaders is to offer a quality, inter-denominational Bible Training Center in the Tri-State area for all Christians.  That vision has now become a reality and for this we give God all the praise.
As a ministry of Christ Fellowship, the training center is located at the new Liberty Center on Elizabeth Avenue, which is located in the heart of the historic city of Elizabeth. It is more than just a Bible study course offered by a local church. We are a member of the Accrediting Commission International, a private accrediting body (private accreditating bodies are not recognized by the U.S. Department of Education) and are a branch training center of Freedom Bible College and Seminary, located in Siloam Springs Arkansas.
The Liberty Center Bible Institute will allow students the opportunity to earn an advanced diploma through our program. This program has been designed to offer anointed teaching and training through a host of Biblical courses. Students attend classes one or two times a week. The rest of the time their work is done in the comfort of their own home and in practical application. This flexible plan, called, Assisted Academics, will allow a serious student to complete a four-year diploma or certificate program in two years. Those who could never attend full-time seminary because of full-time job responsibilities will find this home study pace most beneficial.
Dr. Debra Schwartz, President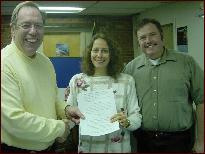 The Liberty Center Bible Institute Charter being presented
Assisted Academics
Assisted Academics is a program used exclusively by Freedom Bible College and Seminary, its training centers, institutes and branches. This plan allows the student to enjoy the fast pace of home study along with the benefits of classroom instruction.
Students enrolled in one of the FBCS branches attend class only one or two times a week. The rest of the work is done in the comfort of their home. This plan allows the student to complete a 4 year diploma in about 2 years.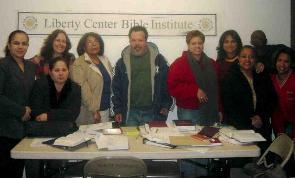 Assisted Academics in Acton
Tuition
Tuition costs are are among the lowest in the world. Prices are kept low to make affordable the pursuit of an advanced diploma. An interest-free, pre-approved monthly payment plan is offered to everyone enrolled at Liberty Center Bible Institute. It is not our objective to make money. Our objective is to offer an opportunity for personal improvement and to promote advancement in the furtherance of the Kingdom of God. For current tuition, please contact us directly as our rates have changed.
Payment Plan
The payment schedule is 10% matriculation and pre-approved, no interest monthly payments.
Curriculum
The courses of study are for neither the passive student nor someone who is interested in an easy way to a Bible diploma. Our curriculum is designed to give you a tremendous amount of accurate information and to challenge your mind. It is appropriate to reference the supreme authority of the Word in 2 Timothy 2:15 – Study to show thyself approved unto God, a workman that needeth not to be ashamed, rightly dividing the word of truth. God never intended for our walk with Him to be without effort. He expects us to search the scriptures and other sources to find our place in His great plan.
We offer diplomas in Theology, Ministry, Biblical Studies, Youth Ministry, Christian Education, Christian Counseling Psychology and Church History. (Note: Not all diploma programs are available at all times).
These concentrations are designed to help equip the student for part-time and full-time ministry as well as to provide additional training and personal enrichment.
Diplomas will be issued upon the completion of each of the above mentioned areas.
These diplomas are available in four levels as described above.
Life and ministry experience will be evaluated from information given in the student's application and resume. In accordance with a specific formula, these experiences will be converted to assets which will be applied in lieu of one or more of the required courses.
Liberty Center Bible Institute is an outreach of Freedom Bible College and Seminary which does business in the state of Arkansas as a degree granting institution operating as an exempt organization under the laws of the state of Arkansas.
The curriculum is well balanced and biblically based being described as evangelical, ecumenical, with an emphasis placed on developing a solid Christian character for the work of the ministry.
For more information about Liberty Bible Center, please E-Mail.