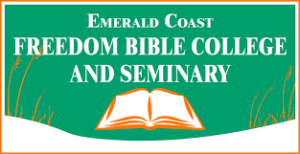 Physical Location:
764 Industrial Dr.
Crestview, FL 32536
Mailing Address:
P. O. Box 1465, Crestview, FL, 32536
Office Hours: 9:00am – 3:00pm   Monday – Thursday
(850)-398-6991     Email: Emeraldcoastbranch-fbcs@cox.net
 A Message from the President
     As President of the Emerald Coast Branch of Freedom Bible College and Seminary (ECB-FBCS), it is indeed my distinct honor and great pleasure to welcome you to our branch website.  You are very important to us and we would like to assist you in fulfilling your lifelong dreams and educational aspirations.
The ECB-FBCS is located at 764 Industrial Drive in Crestview, FL which is located in the heart of the city of Crestview.  We are dedicated to preparing Christian workers, missionaries, and ministers for the kingdom that is to come.  We are a member of the International Commission on Academic Accreditation (ICAAI) and a branch training center of Freedom Bible College and Seminary, located in Siloam Springs, Arkansas.
Whether you are looking for a place to earn a quality Christian degree or just wanting to receive help in reaching your potential and understanding of God's Word, you don't have to look any further.  Our goal is to make disciples for Christ through the help of the Holy Spirit so that men and women can understand their call and fulfill their purpose in the Kingdom of God.  Believers in Christ are most certainly involved in warfare against an already defeated enemy.  Therefore, unless the believers study God's Word to equip themselves with the tools needed for the particular ministry He's given them, they will not walk in victory.
We pray you will make the ECB-FBCS your learning institute for higher Christian education as God grants you the grace and opportunity to excel.  As President, I can assure you that no one will be denied acceptance into the ECB because of sex, race, or denominational background.
Thanking you in advance for visiting our site.  I pray God continues to bless you richly in your search for higher education.  I stand ready to assist you in any way I can in setting up your educational program of study.
Faithfully yours,
Dr. DeLois Jackson, D.Min
President, Emerald Coast Branch
Freedom Bible College and Seminary