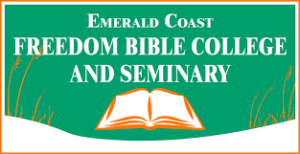 Physical Location: 644 N. Ferdon Blvd., Crestview, FL, 32536
Mailing Address: P. O. Box 1465, Crestview, FL, 32536
Office Hours: 9:00am – 3:00pm   Monday – Thursday
850-398-6991     Email: Emeraldcoastbranch-fbcs@cox.net
A Message from the President
Greetings in the name of our Lord and Savior Jesus Christ!
As President of the Emerald Coast Branch of Freedom Bible College and Seminary (ECB-FBCS), it is indeed my distinct honor and a great pleasure to welcome you to our branch website. You are very important to us and we would like to assist you in fulfilling your lifelong dreams and educational aspirations. The ECB-FBCS is located at 644 N. Ferdon Blvd, in Crestview, FL, which is located in the heart of the city of Crestview. We are dedicated to preparing Christian workers, missionaries, and ministers for the kingdom that is to come. We are a member of the International Commission on Academic Accreditation (ICAAI) and a branch training center of Freedom Bible College and Seminary, located in Siloam Springs, Arkansas. Whether you are looking for a place to earn a quality christian degree or just wanting to receive help in reaching your potential and understanding of God's Word, you don't have to look any further. Our goal is to make disciples for Christ through the help of the Holy Spirit so that men and women can understand their call and fulfill their purpose in the Kingdom of God. Believers in Christ are most certainly involved in warfare against an already defeated enemy. Therefore, unless the believers study God's Word to equip themselves with the tools needed for the particular ministry He's given them, they will not walk in victory.
The curriculum and courses offered at the ECB-FBCS are not the easiest, but they are certainly among the best you can find anywhere or at any price. We not only share these resources with you, we also teach them in life application style that brings out the best in you. Whether you are laity, pastor, preacher, evangelist, deacon or teacher, we believe that you have a ministry and should be taught in all the wisdom that we may present you perfect in Christ Jesus (Col. 2:28).
Graduates of the ECB-FBCS can stand proud because they have become a part of an elite group who has earned a recognized and coveted FBCS degree that endeavors the Great Commission of our Lord and Savior Jesus Christ (Matthew 28:19-20).
Assisted Academics
Assisted Academics is a program used exclusively by Freedom Bible College and Seminary. This plan allows the student to enjoy the fast pace of home study along with the benefits of classroom instruction. The ECB will allow students the opportunity to earn an advanced degree through our program. This program has been designed to offer anointed teaching and training through a host of Biblical courses. Students attend classes one or two times a week. The rest of the time their work is done in the comfort of their own home and in practical application. This flexible plan, called Assisted Academics, will allow a serious student to complete a four-year diploma or certificate program in two years. Those who could never attend full-time seminary because of full-time job responsibilities will find this home study pace most beneficial.
We presently offer Christian Workers, Pastoral, Biblical Studies, Christian Education, and international Christian Counselors Alliance Certificates; Associate, Bachelor, Master and Doctorate Degrees in a variety of disciplines. All programs are tailored especially for you and your budget.
As the Emerald Coast Branch President of FBCS, I am proud to be affiliated with Dr. Vicki Church, President in our home office in Siloam Springs, Arkansas. Dr. Church works continuously and selectively as she is led by the Holy Spirit in setting up branches of FBCS in various countries around the world and across the United States. Her ability to find and spread a strong educational foundation such as FBCS has made an impact on the planet. Through the labors and efforts of her and her staff, God is surely uniting His generals through Christian Education. Their notable support, along with other staff has brought the vision to pass. We at the ECB-FBCS would like to extend a heavenly praise to our Lord and Savior Jesus Christ and a hearty thank-you to such an awesome staff.
We pray you will make the ECB-FBCS your learning institute for higher Christian Education as God grants you the grace and opportunity to excel. As President, I can assure you that no one will be denied acceptance into the ECB because of sex, race or denominational background.
Thanking you in advance for visiting our site. I pray God continues to bless you richly in your search for higher education. I stand ready to assist you in any way I can in setting up your educational program of study.
Faithfully yours,
Dr. DeLois Jackson, D.Min
President, Emerald Coast Branch
Freedom Bible College Seminary
Life And Ministry Credits
Emerald Coast Branch of Freedom Bible College and Seminary allows for life and ministry credits. You may have years of college credits just awaiting you. You can receive these credits for pastoring, ministry, evangelist, missionary, Sunday school teacher, youth leader, praise and worship leader and many other types of ministry. You may be closer to your degree than you think. ECB-FBCS is not a diploma mill; therefore, we do not award degrees or credits strictly on the basis of life and ministry credits. If you are looking for an effortless way to a degree, ECB-FBCS is not the place for you.
Tuition Costs
Emerald Coast Branch Of FBCS — Tuition And Fee Schedule
Please contact us directly as our rates have changed.
Curriculum
The courses and/or curriculum of study are designed to give you a tremendous amount of accurate information and to challenge your mind. It is appropriate to reference the supreme authority of the Word in 2 Timothy 2:15 – Study to show thyself approved unto God, a workman that needeth not to be ashamed, rightly dividing the word of truth. God never intended for our walk with Him to be without effort. He expects us to search the scriptures and other sources to find our place in His great plan.
The curriculum is well-balanced and biblically based being described as evangelical, ecumenical, with an emphasis placed on developing a solid Christian character for the work of the ministry. ECB-FBCS curriculum is accredited by the International Commission on Academic Accreditation, Inc, a private accrediting body.
Admission Requirements
A High School diploma or equivalency is required.
Applicants for admission to ECB-FBCS are considered without regard to sex, age, color, national or ethnic origin, meeting the guidelines of the Civil Rights Act, Section 1984 and all other local and federal programs.
ECB-FBCS will accept all individuals who desire to increase their knowledge of the Lord Jesus Christ. Each prospective student will be assessed according to their academic background and experience. An individualized program of study will be set up to meet those needs.
The ECB-FBCS Application for Enrollment must be sent to the Admissions Office at P. O. Box 1465, Crestview, FL, 32536; or dropped the package off in the office located at 644 N. Ferdon Blvd., in Crestview, FL. Within a few days of receiving an application, with the agreed upon tuition payment or application fee, the applicant will be notified regarding acceptance and will receive a personalized degree plan. The initial payment will be applied to tuition or will be refunded if the applicant is not accepted for any reason. The Application Fee is non-refundable.
Although short quarter breaks will be given, classes basically continue to help you get through your certificate or degree plan quicker.
To be admitted, all candidates are required to create an application package. This package should contain
The completed Application for Enrollment.
A recent photo of yourself (family photos are acceptable).
A resume of your life and ministry experience.
A statement of your salvation experience.
Transcripts from other colleges attended.
Copies of certificates of completion.
Other documentation of higher education.